Today we have come up with yet another guide to root Galaxy On7 and install TWRP recovery.
You see, sometimes it becomes hard to find the right rooting procedure for newly launched devices and that too for specific markets. Take an example of Galaxy On7. Samsung has released this device only in Indian and Brazilian markets (not to forget the Korean market, but that's altogether a different story). Developers remain least interested in finding working root methods for such devices.
Luckily, one of the developers named ashyx from the XDA community has built a working TWRP recovery for Galaxy On7. In this guide, we'll take you through the steps required for rooting and flashing TWRP on Galaxy On7.
Please note that – Rooting and TWRP installation methods mentioned in this guide are solely tested on Galaxy On7, having model number SM-G600FY (Indian / Brazilian variant). Applying the same steps/downloads to any other device may result in boot loops.
Since we will use the Odin flash method, I recommend you to backup your data such as apps, contacts, messages, WhatsApp databases, etc. So in case if you get into any trouble, you can restore them at any time.
Downloads
Install TWRP Recovery on Galaxy On7
Step 1 – Open Settings. Go to About device. Look for the Model number. Tap it continuously 5-7 times till you see Developer mode has been turned on toast message.
Step 2 – Again, go to Settings. Select Developer options (located just above the 'About device' option). Look for the OEM Unlock option and make it on.
Step 3 – Turn off the device. Once the phone is completely off, press and hold the Volume Down, Home button, and Power key simultaneously till you see the blue screen of download mode warning.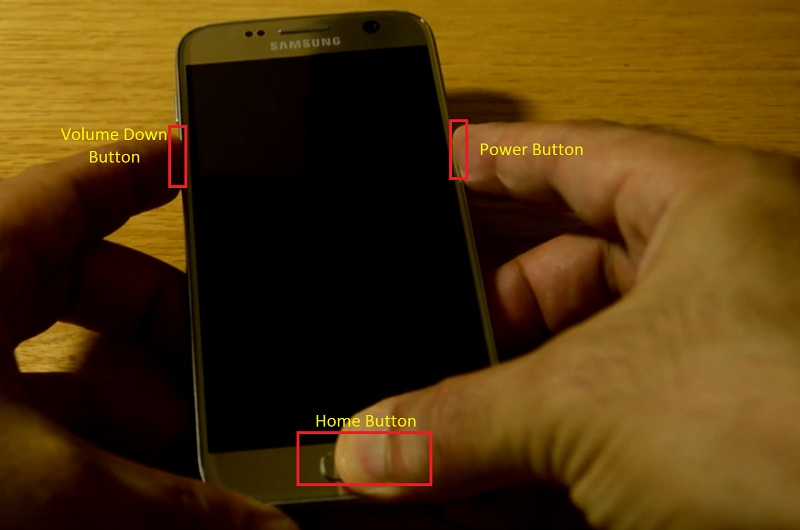 Press the Volume up button to put the device into download mode.
Step 4 – Connect your Galaxy On7 to a PC using a USB Cable and open Odin 3.12.3 software on the PC. You should notice that the ID: COM section located at the top left corner is turned blue.
If it doesn't turn blue, then, in that case, you need to install Samsung USB drivers and repeat step 4. You can download them from here – Samsung Galaxy On7 USB Drivers for Windows
Step 5 – In Odin, click on the AP button and browse for the TWRP_3.0.2-1_SM-G600FY_131016.tar file (the one which you downloaded earlier). Select the same.
Step 6 (Important) – In Options tab, un-tick Auto Reboot option. It is necessary to flash recovery properly.
Step 7 – Finally, press the Start button. Wait till you see the Pass message with green background in the ID: COM section.
Now you can detach the device from the PC.
Step 8 – Pull out the battery from the device and reinsert it. Now, you need to boot into recovery mode manually. For that, press and hold the Volume up + Home button and Power key simultaneously. Once your device gets into recovery mode, you'll see TWRP mentioned at the top of the screen, followed by many options beneath that.
Now that you have installed TWRP custom recovery on your Galaxy On7, you are all set for rooting and can go further.
Root Galaxy On7
Step 1 – Copy SR1-SuperSU-v2.78-SR1-20160915123031.zip file to your device's internal storage.
Step 2 – Turn off the device and get into recovery mode. Follow Step 8 from the above section for the same.
Step 3 – Select Install in recovery mode and locate the file that you just copied. Select it and Swipe right to flash the same.
Step 4 – Reboot the device from recovery mode. To check if rooting is complete or not, download the Root Checker app from the play store.
And that's it! Your device is now successfully rooted with TWRP recovery installed on it. Go ahead and install any Custom ROM as per your customization liking. Happy flashing!